ABOUT HUOBI :

Huobi is a cryptocurrency exchange founded in China in 2013. Currently, Huobi is based in Singapore because this country has friendlier cryptocurrency regulations. The company is registered in Seychelles. Before leaving China due to a cryptocurrency ban, the exchange was responsible for 90% of Bitcoin trading volume in this country. Now Huobi is an international platform with offices located in Singapore, Hong Kong, the United States, Japan, and Korea. In China, the company provides blockchain consulting services. Huobi has sub-exchanges: Huobi Korea, Huobi US, etc. Huobi Global is the biggest Huobi exchange. In November 2019 Huobi Global had to shut down all the accounts belonging to the US customers due to strict cryptocurrency regulations of the USA. This exchange is one of the top 50 cryptocurrency exchanges by trade volume. On the Coingecko chart of exchanges, Huobi Global occupies the third position. The exchange has more than 500 markets and supports over 220 cryptocurrencies. As Huobi provides an option to buy cryptocurrency with fiat money, this exchange is a gateway for people who enter the cryptocurrency world .

​

FEATURES :

Huobi Global has a really wide range of functions. First off, this exchange provides an opportunity to buy cryptocurrencies with fiat money using a credit card and other payment means. This option is delivered in the over-the-counter trading section (OTC). There is a menu line in the upper part of the website. It begins with "But Crypto". That's where one can see the OTC offerings provided by Huobi. One can buy or sell the following currencies: Bitcoin (BTC), Ether (ETH), Tether (USDT), EOS, XRP, Litecoin (LTC), Huobi Token (HT), Huobi stablecoin (HUSD), and Bitcoin Cash (BCH). Please note, that there are not so many offerings especially for certain currencies. Normally there are many options for buying BTC or USDT. The prices and payment methods vary from one trader to another. You can pay with a credit card, some traders accept payments via Western Union, AliPay, and other services.

There is a cryptocurrency exchange with hundreds of crypto-to-crypto pairs. The exchange supports market, limit and stop-limit orders. It gives traders some control over the situation and helps to secure the assets from trading in loss to some extent. In general, the exchange interface of Huobi is quite generic.

Those who have experience of trading on several other exchanges will find the interface familiar. It has a trading view with a candlestick chart on the left and the list of orders updating in real-time on the right. Under the charts, there is an order history. Under the list of market trades, there is a section where users can place orders. The candlestick chart is powered with numerous analysis tools and indicators.

What makes Huobi Global more attractive for traders is the support of margin trading. In all margin trading pairs the currencies are traded against Tether (USDT). There are 6 cryptocurrencies that can be traded with x3 leverage: Bitcoin (BTC), Bitcoin Cash (BCH), Litecoin (LTC), XRP, Ether (ETH), and EOS.

Huobi Global is aimed to provide service both to small investors and institutional traders. That's the reason why the platform offers institutional accounts with special opportunities for corporate customers. Among these features, there are colocation options and other tools that provide the opportunity of seamless high-frequency trading. Additionally, institutional accounts can get special OTC loans.

One more feature is trading derivatives. Huobi provides two separate interfaces for that purpose: Swap trading and Futures trading platforms on Huobi DM. Moreover, it is possible to participate in IEO trading via the Huobi exchange. This feature requires the use of the Huobi Token.

​

ASSETS AND INSTRUMENTS:

As mentioned, there are two types of instruments that you can trade on the Huobi derivatives platform. These are your traditional futures as well as the perpetual swaps or futures.

With these instruments, you are trading crypto on margin. This means that they are leveraged and your exposure is often many multiples of the amount that you have put down as collateral.

Now that we have a brief understanding of leverage, let's take a look at the instruments on offer at the Huobi exchange.

Futures

are instruments that allow the holder to buy or sell some asset in the future. Essentially, you are trading some future price of the instrument on the chose delivery date. In terms of expiry dates, they have weekly, bi-weekly and Quarterly which settle every Friday. In terms of expiry dates, they have weekly, bi-weekly and Quarterly which settle every Friday. When it comes to the specifics of the contract, they differ according to which asset is being traded. You should also take a look into the contract specifics in the

Huobi docs

. This includes such information as the index reference for the prices as well as your last trading price. The latter can only be done up till 10 minutes before the expiry.

Perpetual swaps

are leveraged instruments that do not have have a delivery date. They are marked to market everyday and settle 3 times a day. They are sometimes also called "perpetual futures" at other exchanges.

The reason that they are called "Swaps" at Huobi Derivatives is because you are swapping the returns of one asset for the returns of another. Here, you are swapping crypto returns for returns on the US dollar.

At Huobi DM, the Perpetual swaps have leverage up to 125x and they are written on 5 different assets. These are Bitcoin and

Ethereum

with other coins to be added soon.

​

HUOBI APPS:

Huobi mobile app for iOS and Android are available. Similarly, the Huobi mobile app features most of the functionalities available on the web platform also. You can even complete tasks like account registration and verification directly via the app. In

Google Play

, the Huobi Global app has an average rating of 4.1 stars out of 3,730 reviews. However, in December 2018 and January 2019, some users have said that the Android app won't let them login due to an error with Captcha. On the

Apple App Store

, Huobi boasts an average rating of 4.9 stars out of over 4,800 reviews.

​

API :

For those of you who are programmers, you will be happy to learn that Huobi global API can be used on the Futures and Swap markets.

There is both a websocket as well as a REST version available. It is suggested that you use the REST for one off operation to trade and withdraw. You should use the websocket for market data & order updates. You should also note that you can be a market maker on through the API.

If you want to start using the API then you will to get yourself an API key. This can easily be done in the API management of your account dashboard. Here you can select whether you would like it to be a read-only, Withdraw or Trade. You can also bind an IP address to this API so you can ensure than no other person will use your account even if compromised.

​

HUOBI FEES :

Huobi has a 0.2 % fee that applies to both market makers and takers for amounts between $0 and $5,000,000 over the course of a 30-day period. In comparison, other top exchanges like Binance have 0.1 percent fees. Actually, it has a fair trading fees structure and easy to remember also. Meanwhile, GDAX has 0.3 percent fees.

In January 2019,

Huobi Global

launched a tiered fee structure that significantly reduces fees for higher-volume traders. This is relatively competitive when compared to other exchanges. Users also have the option to reduce trading fees on Huobi by becoming a VIP member. This involves paying a monthly payment of HT, which varies depending on the membership level (1-5).

Like most exchanges, Huobi has no fees on deposits. However, Huobi does have withdrawal fees minimums that vary from coin-to-coin. For example, withdrawing Bitcoin (BTC) costs 0.001 BTC, with a minimum withdrawal amount of 0.01 BTC. For Tether (USDT), the flat fee is 5 USDT. And the minimum withdrawal amount is 20 USDT. Overall, the meaning- Huobi fees are generally higher than most exchanges for lower withdrawal amounts. A few exceptions exist. For example, TUSD has a withdrawal minimum of $20 but a withdrawal fee of only $2.

​

IS IT TRUSTWORTHY?

In contrast to other exchanges, Huobi receives a favorable score. First of all, it is incorporated and operated from Singapore. As we all know crypto regulations are advanced there. And promote blockchain startups always. Second, Huobi does provide users with multiple ways to safeguard their accounts. Although it is not enough. Essentially, 2-factor authentication is available using both SMS and authenticator apps. The platform does not require any special confirmation if the account is logged into from an unfamiliar IP address or location. There is no option to whitelist addresses for asset withdrawal, allowing funds to be sent to any address input. Furthermore, Huobi was never hacked. Even though they do present a lucrative target for attackers. Meaning, Huobi has adopted a decentralized exchange structure, which helps to resist

DDOS attacks

. And we believe the exchange takes these threats seriously and does everything in their power to protect the exchange from hackers. Also, Huobi does store user funds in cold storage to restrict access to them. Actually, the exchange stores around 98 percent of funds in cold wallets.

​

SUPPORT :

Something else that is crucial to the entire trading experience is the level of support that the exchange provides. There is nothing more frustrating than having to wait hours for response from support.

When it comes to Huobi, there are actually quite a few options to reach their customer support. Perhaps the quickest and most effective way is through their live chat function. Firstly, they will try to help you with the available resources. If that does not work then you can reach out to a live agent.

​

CONCLUSION:

So, in summary. We really liked the Huobi futures products. It is not only highly functional but is also secure and leverags the expertise that the team have at the main Huobi exchange.

For the futures instruments, there is a decent range of assets and leverage. Markets are also pretty liquid and these are all traded on a simplistic yet technically able trading platform. It's also great that you can trade on PC programs and mobile apps as well.

When it comes to security, they have taken all of the same precautions that are used on the main exchange. Their 20,000 BTC strong insurance fund keeps them well protected and they have not had a single clawback of trader funds since their inception.

Yes, there are areas for improvement but the exchanges is still evolving and building out functionality. One can only hope that they take trader suggestions into account.

So then, is it worth considering?

Well, if you are looking for a highly functional and secure futures exchange that is backed by one of the biggest names in the business, then it is well worth a try.

​

Huobi Website:

https://www.huobi.com/en-us/topic/invited/?invite_code=czdh5

UID: 138138177

Huobi Indian Community:

https://t.me/huobiglobalindia

Huobi Global Community:

https://t.me/huobiglobalofficial

submitted by

I started buying at Coinbase and then Kraken. I have shorted, margin traded, transferred, bought and sold multiple coin-pairs between these two exchanges, hundreds of transactions while I was in the learning phase of crypto trading. In the last few months of 2017, I have also moved funds to GDAX (also coinbase), BitFlyer, Bittrex, Binance, and BitGril, and done many more buy/sell on many different coin pairs.
I have the record of how much money I invested into crypto, and I can calculate the total gains at the end of the year. I have cashed out most of my initial investment, but not any of my gains yet. And I was under the impression that we were supposed to pay taxes on the final gains when we cash it out- whatever amount(s) it may be.
Reading across the comments here and elsewhere, it appears that we are supposed to calculate profit/loss on every single trade and pay taxes accordingly. Does that mean, for example, if I made 20K in profits in 2017, but somehow lost 25K in beginning of 2018 resulting in a next YTD loss of 5K, I would still owe taxes on 20K gain for 2017? That would be insane!!
Now, how in the world am I supposed to calculate my cost basis with so many transactions across multiple exchanges, (some being foreign).
Are any of you in a similar situation?I want to be right with the taxes, but the tax system is so complicated and confusing (even for non-crypto taxes). They really need to simplify this thing!


submitted by

Hello! My name is Slava Mikhalkin, I am a Project Owner of Crowdsale platform at Platinum, the company that knows how to start any ICO or STO in 2019.

If you want to avoid headaches with launching process, we can help you with ICO and STO advertising and promotion. See the full list of our services:

Platinum.fund

I am also happy to be a part of the UBAI, the first educational institution providing the most effective online education on blockchain! We can teach you how to do ICO/STO in 2019. Today I want to tell you how to sell and transfer cryptocurrencies.

Major Exchanges

In finance, an exchange is a forum or platform for trading commodities, derivatives, securities or other financial instruments. The principle concern of an exchange is to allow trading between parties to take place in a fair and legally compliant manner, as well as to ensure that pricing information for any instrument traded on the exchange is reliable and coherently delivered to exchange participants. In the cryptocurrency space exchanges are online platforms that allow users to trade cryptocurrencies or digital currencies for fiat money or other cryptocurrencies. They can be centralized exchanges such a Binance, or decentralized exchanges such as IDEX. Most cryptocurrency exchanges allow users to trade different crypto assets with BTC or ETH after having already exchanged fiat currency for one of those cryptocurrencies. Coinbase and Kraken are the main avenue for fiat money to enter into the cryptocurrency ecosystem.

Function and History

Crypto exchanges can be market-makers that take bid/ask spreads as a commission on the transaction for facilitating the trade, or more often charge a small percentage fee for operating the forum in which the trade was made. Most crypto exchanges operate outside of Western countries, enabling them to avoid stringent financial regulations and the potential for costly and lengthy legal proceedings. These entities will often maintain bank accounts in multiple jurisdictions, allowing the exchange to accept fiat currency and process transactions from customers all over the globe.

The concept of a digital asset exchange has been around since the late 2000s and the following initial attempts at running digital asset exchanges foreshadows the trouble involved in attempting to disrupt the operation of the fiat currency baking system. The trading of digital or electronic assets predate Bitcoin's creation by several years, with the first electronic trading entities running afoul of the Australian Securities and Investments Commission (ASIC) in late 2004. Companies such as Goldex, SydneyGoldSales, and Ozzigold, shut down voluntarily after ASIC found that they were operating without an Australian Financial Services License. E-Gold, which exchanged fiat USD for grams of precious metals in digital form, was possibly the first digital currency exchange as we know it, allowing users to make instant transfers to the accounts of other E-Gold members. At its peak in 2006 E-Gold processed $2 billion worth of transactions and boasted a user base of over 5 million people.

Popular Exchanges

Here we will give a brief overview of the features and operational history of the more popular and higher volume exchanges because these are the platforms to which newer traders will be exposed. These exchanges are recommended to use because they are the industry standard and they inspire the most confidence.

Bitfinex

Owned and operated by iFinex Inc, the cryptocurrency trading platform Bitfinex was the largest Bitcoin exchange on the planet until late 2017. Headquartered in Hong Kong and based in the US Virgin Island, Bitfinex was one of the first exchanges to offer leveraged trading ("Margin trading allows a trader to open a position with leverage. For example — we opened a margin position with 2X leverage. Our base assets had increased by 10%. Our position yielded 20% because of the 2X leverage. Standard trades are traded with leverage of 1:1") and also pioneered the use of the somewhat controversial, so-called "stable coin" Tether (USDT).

Binance

Binance is an international multi-language cryptocurrency exchange that rose from the mid-rank of cryptocurrency exchanges to become the market dominating behemoth we see today. At the height of the late 2017/early 2018 bull run, Binance was adding around 2 million new users per week! The exchange had to temporarily disallow new registrations because its servers simply could not keep up with that volume of business. After the temporary ban on new users was lifted the exchange added 240,000 new accounts within two hours.

Have you ever thought whats the role of the cypto exchanges? The answer is simple! There are several different types of exchanges that cater to different needs within the ecosystem, but their functions can be described by one or more of the following: To allow users to convert fiat currency into cryptocurrency. To trade BTC or ETH for alt coins. To facilitate the setting of prices for all crypto assets through an auction market mechanism. Simply put, you can either mine cryptocurrencies or purchase them, and seeing as the mining process requires the purchase of expensive mining equipment, Cryptocurrency exchanges can be loosely grouped into one of the 3 following exchange types, each with a slightly different role or combination of roles.

Have you ever thought about what are the types of Crypto exchanges?
Traditional Cryptocurrency Exchange: These are the type that most closely mimic traditional stock exchanges where buyers and sellers trade at the current market price of whichever asset they want, with the exchange acting as the intermediary and charging a small fee for facilitating the trade. Kraken and GDAX are examples of this kind of cryptocurrency exchange. Fully peer-to-peer exchanges that operate without a middleman include EtherDelta, and IDEX, which are also examples of decentralized exchanges.
Cryptocurrency Brokers: These are website or app based exchanges that act like a Travelex or other bureau-de-change. They allow customers to buy or sell crypto assets at a price set by the broker (usually market price plus a small premium). Coinbase is an example of this kind of exchange.
Direct Trading Platform: These platforms offer direct peer-to-peer trading between buyers and sellers, but don't use an exchange platform in doing so. These types of exchanges do not use a set market rate; rather, sellers set their own rates. This is a highly risky form of trading, from which new users should shy away.
To understand how an exchange functions we need only look as far as a traditional stock exchange. Most all the features of a cryptocurrency exchange are analogous to features of trading on a traditional stock exchange. In the simplest terms, the exchanges fulfil their role as the main marketplace for crypto assets of all kinds by catering to buyers or sellers. These are some definitions for the basic functions and features to know: Market Orders: Orders that are executed instantly at the current market price. Limit Order: This is an order that will only be executed if and when the price has risen to or dropped to that price specified by the trader and is also within the specified period of time. Transaction fees: Exchanges will charge transactions fees, usually levied on both the buyer and the seller, but sometimes only the seller is charged a fee. Fees vary on different exchanges though the norm is usually below 0.75%. Transfer charges: The exchange is in effect acting as a sort of escrow agent, to ensure there is no foul play, so it might also charge a small fee when you want to withdraw cryptocurrency to your own wallet.

Regulatory Environment and Evolution

Cryptocurrency has come a long way since the closing down of the Silk Road darknet market. The idea of crypto currency being primarily for criminals, has largely been seen as totally inaccurate and outdated. In this section we focus on the developing regulations surrounding the cryptocurrency asset class by region, and we also look at what the future may hold.

The United States of America

A coherent uniform approach at Federal or State level has yet to be implemented in the United States. The Financial Crimes Enforcement Network published guidelines as early as 2013 suggesting that BTC and other cryptos may fall under the label of "money transmitters" and thus would be required to take part in the same Anti-money Laundering (AML) and Know your Client (KYC) procedures as other money service businesses. At the state level, Texas applies its existing finance laws. And New York has instituted an entirely new licensing system.

The European Union

The EU's approach to cryptocurrency has generally been far more accommodating overall than the United States, partly due to the adaptable nature of pre-existing laws governing electronic money that predated the creation of Bitcoin. As with the USA, the EU's main fear is money laundering and criminality. The European Central Bank (ECB) categorized BTC as a "convertible decentralized currency" and advised all central banks in the EU to refrain from trading any cryptocurrencies until the proper regulatory framework was put in place. A task force was then set up by the European Parliament in order to prevent and investigate any potential money laundering that was making use of the new technology.

Likely future regulations for cryptocurrency traders within the European Union and North America will probably consist of the following proposals: The initiation of full KYC procedures so that users cannot remain fully anonymous, in order to prevent tax evasion and curtail money laundering. Caps on payments that can be made in cryptocurrency, similar to caps on traditional cash transactions. A set of rules governing tax obligations regarding cryptocurrencies Regulation by the ECB of any companies that offer exchanges between cryptocurrencies and fiat currencies It is less likely for other countries to follow the Chinese approach and completely ban certain aspects of cryptocurrency trading. It is widely considered more progressive and wiser to allow the technology to grow within a balanced accommodative regulatory framework that takes all interests and factors into consideration. It is probable that the most severe form of regulation will be the formation of new governmental bodies specifically to form laws and exercise regulatory control over the cryptocurrency space. But perhaps that is easier said than done. It may, in certain cases, be incredibly difficult to implement particular regulations due to the anonymous and decentralized nature of crypto.

Behavior of Cryptocurrency Investors by Demographic

Due to the fact that cryptocurrency has its roots firmly planted in the cryptography community, the vast majority of early adopters are representative of that group. In this section we cover the basic structure of the cryptocurrency market cycle and the makeup of the community at large, as well as the reasons behind different trading decisions.

The Cryptocurrency Market Cycle

Bitcoin leads the bull rally. FOMO (Fear of missing out) occurs, the price surge is a constant topic of mainstream news, business programs cover the story, and social media is abuzz with cryptocurrency chatter. Bitcoin reaches new All Timehigh (ATH) Market euphoria is fueled with even more hype and the cycle is in full force. There is a constant stream of news articles and commentary on the meteoric, seemingly unstoppable rise of Bitcoin. Bitcoin's price "stabilizes", In the 2017 bull run this was at or around $14,000. A number of solid, large market cap altcoins rise along with Bitcoin; ETH & LTC leading the altcoins at this time. FOMO comes into play, as the new ATH in market cap is reached by pumping of a huge number of alt coins.

Top altcoins "somewhat" stabilize, after reaching new all-time highs. The frenzy continues with crypto success stories, notable figures and famous people in the news. A majority of lesser known cryptocurrencies follow along on the upward momentum. Newcomers are drawn deeper into crypto and sign up for exchanges other than the main entry points like Coinbase and Kraken. In 2017 this saw Binance inundated with new registrations. Some of the cheapest coins are subject to massive pumping, such as Tron TRX which saw a rise in market cap from $150 million at the start of December 2017 to a peak of $16 billion! At this stage, even dead coins or known scams will get pumped. The price of the majority of cryptocurrencies stabilize, and some begin to retract. When the hype is subsiding after a huge crypto bull run, it is a massive sell signal. Traditional investors will begin to give interviews about how people need to be careful putting money into such a highly volatile asset class. Massive violent correction begins and the market starts to collapse. BTC begins to fall consistently on a daily basis, wiping out the insane gains of many medium to small cap cryptos with it. Panic selling sweeps through the market. Depression sets in, both in the markets, and in the minds of individual investors who failed to take profits, or heed the signs of imminent collapse. The price stagnation can last for months, or even years.

The Influence of Age upon Trading

Did you know? Cryptocurrencies have been called "stocks for millennials" According to a survey conducted by the Global Blockchain Business Council, only 5% of the American public own any bitcoin, but of those that do, an overwhelming majority of 71% are men, 58% of them are between the ages of 18 and 35, and over half of them are minorities. The same survey gauged public attitude toward the high risk/high return nature of cryptocurrency, in comparison to more secure guaranteed small percentage gains offered by government bonds or stocks, and found that 30% would rather invest $1,000 in crypto. Over 42% of millennials were aware of cryptocurrencies as opposed to only 15% of those ages 65 and over. In George M. Korniotis and Alok Kumar's study into the effects of aging on portfolio management and the quality of decisions made by older investors, they found "that older and experienced investors are more likely to follow "rules of thumb" that reflect greater investment knowledge. However, older investors are less effective in applying their investment knowledge and exhibit worse investment skill, especially if they are less educated and earn lower income."

Geographic Influence upon Trading

One of the main drivers of the apparent seasonal ebb and flow of cryptocurrency prices is the tax situation in the various territories that have the highest concentrations of cryptocurrency holders. Every year we see an overall market pull back beginning in mid to late January, with a recovery beginning usually after April. This is because "Tax Season" is roughly the same across Europe and the United States, with the deadline for Income tax returns being April 15th in the United States, and the tax year officially ending the UK on the 6th of April. All capital gains must be declared before the window closes or an American trader will face the powerful and long arm of the IRS with the consequent legal proceedings and possible jail time. Capital gains taxes around the world vary from jurisdiction to jurisdiction but there are often incentives for cryptocurrency holders to refrain from trading for over a year to qualify their profits as long term gain when they finally sell. In the US and Australia, for example, capital gains are reduced if you bought cryptocurrency for investment purposes and held it for over a year. In Germany if crypto assets are held for over a year then the gains derived from their sale are not taxed. Advantages like this apply to individual tax returns, on a case by case basis, and it is up to the investor to keep up to date with the tax codes of the territory in which they reside.

2013 Bull run vs 2017 Bull run price Analysis

In late 2016 cryptocurrency traders were faced with the task of distinguishing between the beginnings of a genuine bull run and what might colorfully be called a "dead cat bounce" (in traditional market terminology). Stagnation had gripped the market since the pull-back of early 2014. The meteoric rise of Bitcoin's price in 2013 peaked with a price of $1,100 in November 2013, after a year of fantastic news on the adoption front with both Microsoft and PayPal offering BTC payment options. It is easy to look at a line going up on a chart and speak after the fact, but at the time, it is exceeding difficult to say whether the cat is actually climbing up the wall, or just bouncing off the ground. Here, we will discuss the factors that gave savvy investors clues as to why the 2017 bull run was going to outstrip the 2013 rally. Hopefully this will help give insight into how to differentiate between the signs of a small price increase and the start of a full scale bull run. Most importantly, Volume was far higher in 2017. As we can see in the graphic below, the 2017 volume far exceeds the volume of BTC trading during the 2013 price increase. The stranglehold MtGox held on trading made a huge bull run very difficult and unlikely.

Fraud & Immoral Activity in the Private Market

Ponzi Schemes Cryptocurrency Ponzi schemes will be covered in greater detail in Lesson 7, but we need to get a quick overview of the main features of Ponzi schemes and how to spot them at this point in our discussion. Here are some key indicators of a Ponzi scheme, both in cryptocurrencies and traditional investments: A guaranteed promise of high returns with little risk. Consistentflow of returns regardless of market conditions. Investments that have not been registered with the Securities and Exchange Commission (SEC). Investment strategies that are a secret, or described as too complex. Clients not allowed to view official paperwork for their investment. Clients have difficulties trying to get their money back. The initial members of the scheme, most likely unbeknownst to the later investors, are paid their "dividends" or "profits" with new investor cash. The most famous modern-day example of a Ponzi scheme in the traditional world, is Bernie Madoff's $100 billion fraudulent enterprise, officially titled Bernard L. Madoff Investment Securities LLC. And in the crypto world, BitConnect is the most infamous case of an entirely fraudulent project which boasted a market cap of $2 billion at its peak.

What are the Exchange Hacks?

The history of cryptocurrency is littered with examples of hacked exchanges, some of them so severe that the operation had to be wound up forever. As we have already discussed, incredibly tech savvy and intelligent computer hackers led by Alexander Vinnik stole 850000 BTC from the MtGox exchange over a period from 2012–2014 resulting in the collapse of the exchange and a near-crippling hammer blow to the emerging asset class that is still being felt to this day. The BitGrail exchange suffered a similar style of attack in late 2017 and early 2018, in which Nano (XRB) was stolen that was at one point was worth almost $195 million. Even Bitfinex, one of the most famous and prestigious exchanges, has suffered a hack in 2016 where $72 million worth of BTC was stolen directly from customer accounts.

Hardware Wallet Scam Case Study

In late 2017, an unfortunate character on Reddit, going by the name of "moody rocket" relayed his story of an intricate scam in which his newly acquired hardware wallet was compromised, and his $34,000 life savings were stolen. He bought a second hand Nano ledger into which the scammers own recover seed had already been inserted. He began using the ledger without knowing that the default seed being used was not a randomly assigned seed. After a few weeks the scammer struck, and withdrew all the poor HODLer's XRP, Dash and Litecoin into their own wallet (likely through a few intermediary wallets to lessen the very slim chances of being identified).

Hardware Wallet Scam Case Study Social Media Fraud

Many gullible and hapless twitter users have fallen victim to the recent phenomenon of scammers using a combination of convincing fake celebrity twitter profiles and numerous amounts of bots to swindle them of ETH or BTC. The scammers would set up a profile with a near identical handle to a famous figure in the tech sphere, such as Vitalik Buterin or Elon Musk. And then in the tweet, immediately following a genuine message, follow up with a variation of "Bonus give away for the next 100 lucky people, send me 0.1 ETH and I will send you 1 ETH back", followed by the scammers ether wallet address. The next 20 or so responses will be so-called sockpuppet bots, thanking the fake account for their generosity. Thus, the pot is baited and the scammers can expect to receive potentially hundreds of donations of 0.1 Ether into their wallet. Many twitter users with a large follower base such as Vitalik Buterin have taken to adding "Not giving away ETH" to their username to save careless users from being scammed.

Market Manipulation

It also must be recognized that market manipulation is taking place in cryptocurrency. For those with the financial means i.e. whales, there are many ways in which to control the market in a totally immoral and underhanded way for your own profit. It is especially easy to manipulate cryptos that have a very low trading volume. The manipulator places large buy orders or sell walls to discourage price action in one way or the other. Insider trading is also a significant problem in cryptocurrency, as we saw with the example of blatant insider trading when Bitcoin Cash was listed on Coinbase.

Examples of ICO Fraudulent Company Behavior

In the past 2 years an astronomical amount of money has been lost in fraudulent Initial Coin Offerings. The utmost care and attention must be employed before you invest. We will cover this area in greater detail with a whole lesson devoted to the topic. However, at this point, it is useful to look at the main instances of ICO fraud. Among recent instances of fraudulent ICOs resulting in exit scams, 2 of the most infamous are the Benebit and PlexCoin ICOs which raised $4 million for the former and $15 million for the latter. Perhaps the most brazen and damaging ICO scam of all time was the Vietnamese Pincoin ICO operation, where $660million was raised from 32,000 investors before the scammer disappeared with the funds. In case of smaller ICO "exit scamming" there is usually zero chance of the scammers being found. Investors must just take the hit. We will cover these as well as others in Lesson 7 "Scam Projects".

Signposts of Fraudulent Actors

The following factors are considered red flags when investigating a certain project or ICO, and all of them should be considered when deciding whether or not you want to invest. Whitepaper is a buzzword Salad: If the whitepaper is nothing more than a collection of buzzwords with little clarity of purpose and not much discussion of the tech involved, it is overwhelmingly likely you are reading a scam whitepaper.

Signposts of Fraudulent Actors §2

No Code Repository: With the vast majority of cryptocurrency projects employing open source code, your due diligence investigation should start at GitHub or Sourceforge. If the project has no entries, or nothing but cloned code, you should avoid it at all costs. Anonymous Team: If the team members are hard to find, or if you see they are exaggerating or lying about their experience, you should steer clear. And do not forget, in addition to taking proper precautions when investing in ICOs, you must always make sure that you are visiting authentic web pages, especially for web wallets. If, for example, you are on a spoof MyEtherWallet web page you could divulge your private key without realizing it and have your entire portfolio of Ether and ERC-20 tokens cleaned out.

Methods to Avoid falling Victim

Avoiding scammers and the traps they set for you is all about asking yourself the right questions, starting with: Is there a need for a Blockchain solution for the particular problem that a particular ICO is attempting to solve? The existing solution may be less costly, less time consuming, and more effective than the proposals of a team attempting to fill up their soft cap in an ICO. The following quote from Mihai Ivascu, the CEO of Modex, should be kept in mind every time you are grading an ICO's chances of success: "I'm pretty sure that 95% of ICOswill not last, and many will go bankrupt. ….. not everything needs to be decentralized and put on an open source ledger."

Methods to Avoid falling Victim §2 Do I Trust These People with My Money, or Not?

If you continue to feel uneasy about investing in the project, more due diligence is needed. The developers must be qualified and competent enough to complete the objectives that they have set out in the whitepaper.

Is this too good to be true?

All victims of the well-known social media scams using fake profiles of Vitalik Buterin, or Bitconnect investors for that matter, should have asked themselves this simple question, and their investment would have been saved. In the case of Bitconnect, huge guaranteed gains proportional to the amount of people you can get to sign up was a blatant pyramid scheme, obviously too good to be true. The same goes for Fake Vitalik's offer of 1 ether in exchange for 0.1 ETH.

Selling Cryptocurrencies, Several reasons for selling with the appropriate actions to take:

If you are selling to buy into an ICO, or maybe believe Ether is a safer currency to hold for a certain period of time, it is likely you will want to make use of the Ether pair and receive Ether in return. Obviously if the ICO is on the NEO or WANchain blockchain for example, you will use the appropriate pair. -Trading to buy into another promising project that is listing on the exchange on which you are selling (or you think the exchange will experience a large amount of volume and become a larger exchange), you may want to trade your cryptocurrency for that exchange token. -If you believe that BTC stands a good chance of experiencing a bull run then using the BTC trading pair is the suitable choice. -If you believe that the market is about to experience a correction but you do not want to take your gains out of the market yet, selling for Tether or "tethering up" is the best play. This allows you to keep your locked-in profits on the exchange, unaffected by the price movements in the cryptocurrency markets,so that you can buy back in at the most profitable moment. -If you wish to "cash out" i.e. sell your cryptocurrency for fiat currency and have those funds in your bank account, the best pair to use is ETH or BTC because you will likely have to transfer to an exchange like Kraken or Coinbase to convert them into fiat. If the exchange offers Litecoin or Bitcoin Cash pairs it could be a good idea to use these for their fast transaction time and low fees.

Selling Cryptocurrencies

Knowing when and how to sell, as well as strategies to inflate the value of your trade before sale, are important skills as a trader of any product or financial instrument. If you are satisfied that the sale itself of the particular amount of a token or coin you are trading away is the right one, then you must decide at what price you are going to sell. Exchanges exercise their own discretion as to which trading "pairs" they will offer, but the most common ones are BTC, ETH, BNB for Binance, BIX for Bibox etc., and sometimes Tether (USDT) or NEO. As a trader, you decide which particular cryptocurrency to exchange depending on your reason for making that specific trade at that time.

Methods of Sale

Market sell/Limit sell on exchange: A limit sell is an order placed on an exchange to sell as soon as (also specifically only if and when) the price you specified has been hit within the time limit you select. A market order executes the sale immediately at the best possible price offered by the market at that exact time. OTC (or Over the Counter) selling refers to sale of securities or cryptocurrencies in any method without using an exchange to intermediate the trade and set the price. The most common way of conducting sales in this manner is through LocalBitcoins.com. This method of cryptocurrency selling is far riskier than using an exchange, for obvious reasons.

The influence and value of your Trade

There are a number of strategies you can use to appreciate the value of your trade and thus increase the Bitcoin or Ether value of your portfolio. It is important to disassociate yourself from the dollar value of your portfolio early on in your cryptocurrency trading career simply because the crypto market is so volatile you will end up pulling your hair out in frustration following the real dollar money value of your holdings. Once your funds have been converted into BTC and ETH they are completely in the crypto sphere. (Some crypto investors find it more appropriate to monitor the value of their portfolio in satoshi or gwei.) Certainly not limited to, but especially good for beginners, the most reliable way to increase your trading profits, and thus the overall value and health of your portfolio, is to buy into promising projects, hold them for 6 months to a year, and then reevaluate. This is called Long term holding and is the tactic that served Bitcoin HODLers quite well, from 2013 to the present day. Obviously, if something comes to light about the project that indicates a lengthy set back is likely, it is often better to cut your losses and sell. You are better off starting over and researching other projects. Also, you should set initial Price Points at which you first take out your original investment, and then later, at which you take out all your profits and exit the project. That should be after you believe the potential for growth has been exhausted for that particular project.

Another method of increasing the value of your trades is ICO flipping. This is the exact opposite of long term holding. This is a technique in which you aim for fast profits taking advantage of initial enthusiasm in the market that may double or triple the value of ICO projects when they first come to market. This method requires some experience using smaller exchanges like IDEX, on which project tokens can be bought and sold before listing on mainstream exchanges. "Tethering up" means to exchange tokens or coins for the USDT stable coin, the value of which is tethered to the US Dollar. If you learn, or know how to use, technical analysis, it is possible to predict when a market retreatment is likely by looking at the price movements of BTC. If you decide a market pull back is likely, you can tether up and maintain the dollar value of your portfolio in tether while other tokens and coins decrease in value. The you wait for an opportune moment to reenter the market.

Market Behavior in Different Time Periods

The main descriptors used for overall market sentiment are "Bull Market" and "Bear Market". The former describes a market where people are buying on optimism. The latter describes a market where people are selling on pessimism. Fun (or maybe not) fact: The California grizzly bear was brought to extinction by the love of bear baiting as a sport in the mid 1800s. Bears were highly sought after for their intrinsic fighting qualities, and were forced into fighting bulls as Sunday morning entertainment for Californians. What has this got to do with trading and financial markets? The downward swipe of the bear's paws gives a "Bear market" its name and the upward thrust of a Bull's horns give the "Bull Market" its name. Most unfortunately for traders, the bear won over 80% of the bouts. During a Bull market, optimism can sometimes grow to be seemingly boundless, volume is rising, and prices are ascending. It can be a good idea to sell or rebalance your portfolio at such a time, especially if you have a particularly large position in one holding or another. This is especially applicable if you need to sell a large amount of a relatively low-volume holding, because you can then do so without dragging the price down by the large size of your own sell order.

Learn more on common behavioral patterns observed so far in the cryptocurrency space for different coins and ICO tokens.

Follow the link:

UBAI.co

If you want to know how do security tokens work, and become a professional in crypto world contact me via Facebook to get all the details:

Facebook

submitted by

Crypto has been struggling to get accepted into formal financial markets recently,
Bitcoin ETF proposals have been rejected by the SEC
one after the other. The SEC argues that its main concerns are market price manipulation, security issues on the crypto exchanges, low liquidity and mall relative size of the crypto market.
While it might get some more time to develop more reliable tools on the crypto ecosystem and have SEC approves bitcoin ETF. It is well known that strong future markets help to stabilize volatile prices of many assets such as commodities. Futures markets have to be incentivized to grow further and bring more overall reliability to the crypto ecosystem.
Foreseeing this opportunity, a experimented pit-trader from the London International Financial & Options Exchange
(LIFFE)
has inspired a crafty team to create the perfect opportunity for crypto futures markets ultimate expansion an growth. They create a concept that will change the current paradigm of crypto futures market. They have created
Digitex
, the first commission-free futures exchange.

Why futures markets are such a big deal?
Futures markets are one of the most important tools for stabilizing volatile markets. Its relevance for the crypto ecosystem lies in three factors:
Futures markets give traders the opportunity to trade prices without the risk of transferring, storing, and paying in full for the underlying instrument on whose price they are trading.




The crypto market size is roughly $200 billion at the time of writing this article while the derivatives market size is estimated to be $1.2 quadrillion on the high end... those are just to many zeros at the right end of the figure. Since futures are part of the derivatives market, it is quite straightforward why we all should be praying for solid, secure, and growing crypto futures platforms.


The higher the capital vested on crypto, the more guarantees investors will want to have within the ecosystem. A fully-fledged traditional-like financial platform such as futures markets will increase the trust of the investor on the crypto ecosystem.
But despite its great benefits and low costs, futures market's fees are still too much of a burden for high volume, low profit, margin futures trading strategies. This situation hinders futures market liquidity and turns possible profitable strategies into losing ones after commissions are charged.

Digitex gamechanger commission-free scheme
Digitex
will create an Ethereum based token, it will be called DGTX. It will be used to denominate all profits, losses, margin requirements and account balances. Therefore, any trader that wants to participate in the commission-free trading environment of
Digitex
should own DGTX, thus a great demand is expected from the traders willing to join this unique opportunity.
Having read this much a question yet remain unanswered, how is it possible for an exchange to operate without charging fees? How does it sustain itself?
At this point is when the genie came out of the lamp. Instead of charging fees on traders that bring liquidity to the futures market,
Digitex
revenue model imposes a small inflationary cost on all token holders that will be widely outweighed with the high demand that the DGTX token will have. Even better,
Digitex Futures Exchange
will leverage onto the trustless security system of the Ethereum Blockchain to guard account balances. An Ethereum smart contract will hold all account balances,
Digitex
will inform the Smart Contract about each trader outstanding
margin liabilities
and profit/losses balance.
In a nutshell,
Digitex Futures Exchange
will not hold any physical data about traders balance nor it will hold any private key from users. Thus, malicious actors have little to no incentives to attack the
Digitex
.
The icing on the cake. DGTX holders will be the ones who decide DGTX minting rates
DGTX token issuance will be democratically decided by the DGTX holders through a mechanism leveraged on the Blockchain, this will readily enforce a healthy DGTX token inflation rate, aligning the interest of the DGTX holders with the interest of the
Digitex Futures Exchange.

Futures traders' commission-free Utopia, a dream that became true
By creating an ERC-223 token on the Ethereum Blockchain, and by using it as the native currency of the
Digitex Futures Exchange
, traders will be to enjoy more freedom than ever with a operating scheme that allows them to implement whatever trading strategy they desire without fees-related limitations.
This new high liquid market will attract many traders that must buy DGTX token to cover the margin requirements to open trades. Thus, the inflationary pressure will be more than matched with the high demand for DGTX tokens. Besides, the first two years there will be no issuance of DGTX tokens since all operative cost will be covered through the DGTX ICO. Skeptical traders will have more than plenty time to watch the performance of the
Digitex Futures Exchange
, but traders will have to keep in mind that
the early bird gets the worm.
According to
Digitex Futures Exchange
projections, in early 2021 the first issuance of DGTX tokens will occur. Traders will vote to decide how many tokens will be minted to cover for software development, servers, staff, premises, marketing, support, and other related costs to keep the platform fully operational. They will do so through a Blockchain-based, Decentralized, Governance Mechanism that will allow DGTX holders to vote with a 1-DGTX/1-vote ratio.
If you have had enough and don't want to waste more time to join this project, go here and get early access. If not keep reading that it just gets better

DGTX token details
Since all profits and losses are denominated in DGTX tokens, each trader have to own enough DGTX to cover his potential losses because the
tick value
of each
Digitex
futures contract is one DGTX token.
The owner of DGTX tokens can engage in the buying and selling of liquid futures on the price of the Bitcoin against the USD, Ethereum against the USD, and Litecoin against the USD. Due to the commission-free framework of
Digitex
, the more active the trader is, the higher the intrinsic value of each DGTX token he has because he is saving the commissions than any other platform would have charged on him for doing the exact same trade.
Let's summarize the key aspects of the DGTX token
| | |
| --- | --- |
| DGTX will be the native currency of Digitex | The tick value of each Digitex futures is one DGTX |
| Traders' margin requirements will be covered with their DGTX | Account balances are denominated in DGTX tokens |
| DGTX minting will cover for Digitex operational costs | The initial supply will be 1 billion of DGTX tokens. The funds risen in the ICO will cover the costs of Digitex for the first 2 years of operation. |
| Integration with swap.tech ,0xproject, and bancor.com enables free tradeability of DGTX with BTC, ETH, and other major Cryptocurrencies | Traders can eliminate DGTX price risk thanks to DGTX peg system. |
Price risk is no longer a burden for traders thanks to DGTX peg system
Hedging
is a basic strategy in stock markets to protect portfolios and reduce the negative effects that negative market movements may have on traders investments. Traders that hedge risk on their physical holdings of the underlying instrument (Bitcoin, Ethereum, or any other cryptocurrency) cannot tolerate DGTX token's price affecting their positions.
To protect traders from DGTX price volatility,
Digitex Futures Exchange
has futures contracts on the price of DGTX that allows traders to lock in their tokens and sell them at current market prices. This great tool allows traders to keep possession of their DGTX tokens to cover their margins and keep trading on the
Digitex
futures market. The downside of this strategy is that traders will not earn the profit if the DGTX rises because of the tokens being locked at a lower price.
As with any other future contract, the trader has to deposit a margin payment in the currency to which he is pegging the value of DGTX to cover his potential loses on the trade. Because the trader is protecting himself against DGTX price risk, another currency has to be employed to cover margin payments. ETH deposits are handled into an independent account balance smart contract and BTC deposits are converted into
RSK
and deposited into a separated Account Balance Smart Contract (RSK is a Turing complete sidechain of the bitcoin network).
DGTX token availability
If DGTX token will be the fuel of a high volume and very liquid futures market, it has to be readily available and as frictionless as possible. Some traders may be happy to hold DGTX for the long term, but most traders will buy DGTX tokens only when needed and convert them back to other cryptocurrencies as soon as their positions are closed.
To properly address this situation,
Digitex Futures Exchange
will integrate
0xproject
into its platform. Besides, 20% of the proceeds from token sales will be used to create a liquid market of DGTX tokens to ensure that a enough offers can sustain the expected high bid levels.
Traders on the
Digitex Futures Exchange
are expected to buy DGTX at the start of each trading session, use the DGTX peg-system to lock in their sale price and convert them into the original cryptocurrency a few hours later when the trading session ends. This workflow will ensure a massive volume of DGTX traffic that will benefit greatly in the long term.
DGTX token supply and distribution
650M (65%) DGTX tokens were sold in January 2018: THEY SOLD ALL THE SUPPLY IN JUST 17 MINUTES


Digitex market makers have 200M (20%) DGTX are bots that uses sophisticated algorithms to create liquid futures markets with tigh offer and bid spreads, even in volatile market conditions.


100M (10%) DGTX will be paid to the founding team. These tokens will be vested until 1 year past the first revenue generation token creation event (2021).This will incentivize the team to create a solid and ever-growing business model that creates demand for DGTX tokens.


50M (5%) DGTX will be allocated into a referrals program.
DGTX token issuance model and price projections
DGTX token creation events will occur via a fully auditable Smart Contract, a transparent review of DGTX token supply and event creations will be always available.
Digitex
team build price projections over these basic assumptions:
2% of traders are whales who buy a total of $150,000 USD worth of DGTX tokens over a 2 year period.
10% of traders are medium-sized traders who buy a total of $15,000 uSD worth od DGTX tokens over a 2 year period
88% of traders are small traders who buy a total of $1,500 USD worth od DGTX tokens over a 2 year period

Quotation source: Digitex white paper page 7-8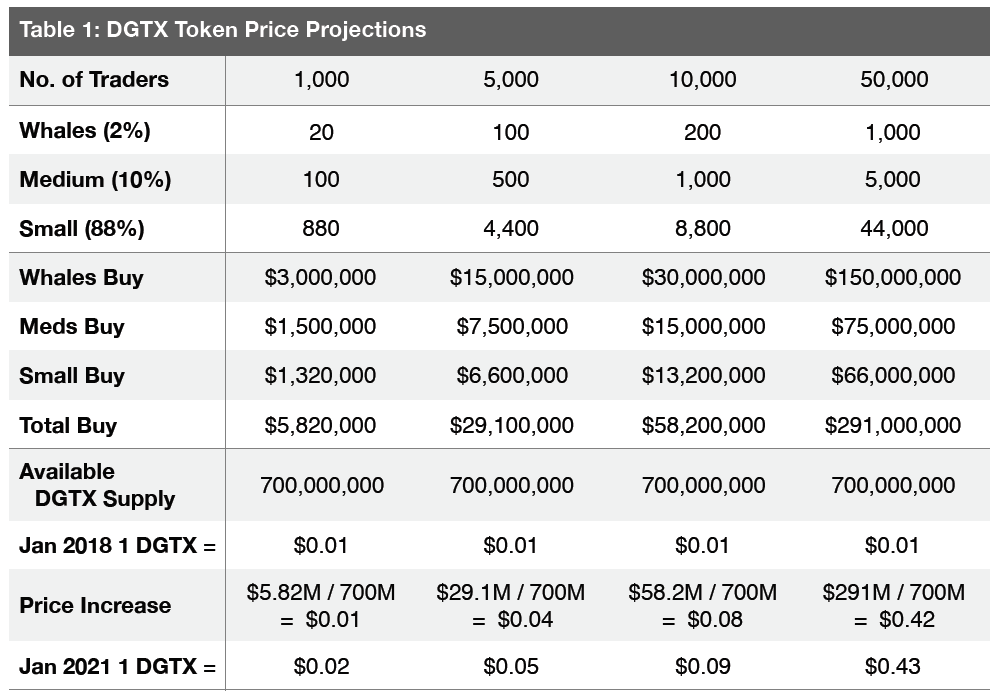 Source: Digitex white paper page 8
This is an oversimplified model that doesn't take into account the overall trend in the crypto market. If the market turns bullish the rise in DGTX prices will be more than expected, but if the market is too bearish, the expectations may not be fulfilled even if the right number of traders is reached. Despite all that, the general trend can be depicted in this chart. Moreover, taking into account that BTC has lost more than
60%
of his value in 2018, DGTX stands as the 3rd bigger gainer according to coinmarketcap. You can tell from the graph below that investors are excited about the approaching kickstart date.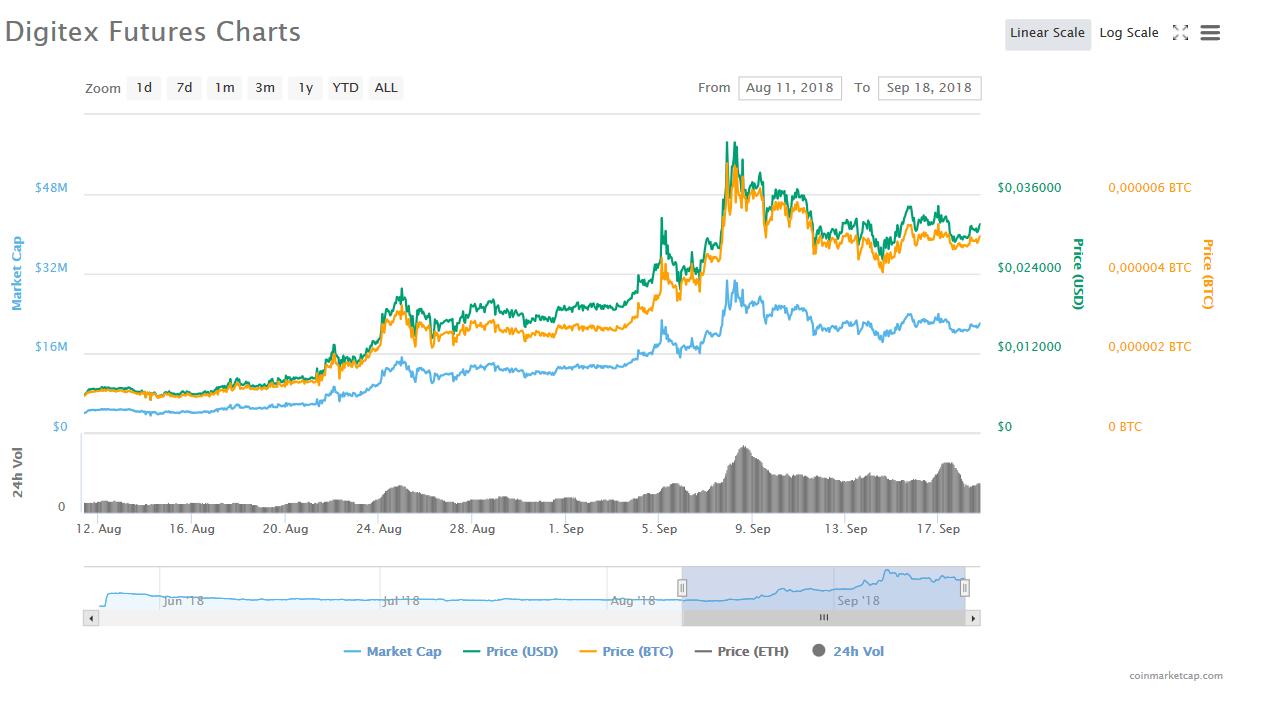 Source: Coinmarketcap
DGTX token inflation projections
After January 2021, the next 12 months of the operational cost will be covered through the minting of new DGTX tokens. Here we can see a table with the expected effect of the inflation on the value of each DGTX token:

Source: Digitex white paper page 9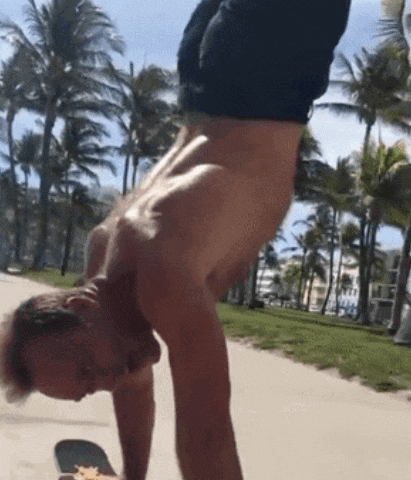 The worst case scenario guarantees that if only 1,000 new trader registers during the first 2 years and DGTX price remain stagnant, only 5% of inflation is required to maintain the operational costs for the next 12 months. The effect of 5% inflation over the 0.02% price is negligible. Also, if the best case scenario is met, only 2.3% of inflation will be required to sustain the platform and its effect on the project price will be only of 1 cent per DGTX token. If the project reaches this stage, securing 12 months of development and more marketing will attract thousands more of traders that will increase the demand for DGTX outweighing the inflationary cost of creating that demand. You can tell that their projections might have been too conservative, in September 2018 we got an announcement about their
waitlist reaching 100K signups
...no wonder why their CEO seems so happy.

Digitex hybrid trustless futures trade platform
Digitex
have adopted a smart combination of the best features obtained with centralized matching engines and trustless, decentralized Smart Contracts to held account balances. In the wild future trading pits, each second matters, thus its mandatory to have a system with the smallest latency levels. Also, privacy is required to prevent frontrunners to exploit big orders. Many other desirable characteristics aren't yet available onto on-chain platforms and are only reached on centralized dedicated servers such as margin trading tools, scalability, and high privacy. Therefore, a hybrid model that covers current on-chain shortcomings and have none of the centralized ill-practicing is the smartest approach to leverage this new business model.
Digitex. The oracle for the account balance smart contract
Digitex
acts as an Oracle that updates the decentralized Smart Contract that holds traders' account balances. When a trader requests a withdrawal of DGTX tokens, the Smart Contract requests an update to
Digitex
about the trader's profit and losses, as well as his current margin liabilities on his current matched and unmatched orders. Thus, the Smart Contract can update its available withdraw balance for that trader.
The potential attack vector from the communication of the exchange with the Smart Contract will be prevented by calculating from scratch traders' profit and loss from their matched trades whenever the smart contract asks for an update to a trader's account balance. Thus, a hacker who has somehow gained access to the exchange, will not be able to create the fake matched trades (which needs a counter-party and timestamps) and alter the account's balance of any trader.
How is this hybrid model more beneficial for traders activity
Digitex
is unable to freeze or to seize any trader's fund for whatever reason. Pressure from outside authorities, KYC/AML regulators cannot enforce any legal action against the exchange since it actually can't reach trader's funds. Also,
Digitex
doesn't have access to the private keys of any trader, thus trader's funds cannot be accessed or mismanaged for the exchange.

Final Thoughts
Digitex
benefits are of great significance for everyday traders, a commission-free platform will be a substantial improvement on the profit earned in many portfolios. Also, decentralized account balances and the centralized matching engine provides the best of the decentralized blockchain security and the centralized services reliability. The expected latency time for order matching is within the millisecond's scale, also, full privacy and no front-running is expected.
From the traders business perspective,
Digitex
single tick trading strategies are available for the first time within the crypto ecosystem, this parallel with the market makers will greatly boost market liquidity.
A Steemit blogger use case
From the starting date of the Steemit platform, some bloggers have earned $100K worth of crypto. They have been really excited about crypto for two years, and they think it is time to jump in the futures market. They search for traditional options like BitMEX, GDAX, CryptoFacilities, and some others, but they discourage themselves when they discover that the high volume low margin strategy they have been carefully studied for the last two years is unpracticable on the traditional platforms.
They are frustrated and return to read some posts on Steemit while scrolling the trending page they read about a new futures market platform on a post of the well-known @originalworks account, they read some of the best entries of the weekly contest and they can't stop the big smile that is printed on their faces. Right from the very same source of their first crypto assets, also they get the tool that will provide them the opportunity for testing all the knowledge gathered for the last 2 years. With
Digitex
they will enter the world of derivatives and start their venture as crypto traders.
Additional Information about the project
Here is Digitex Roadmap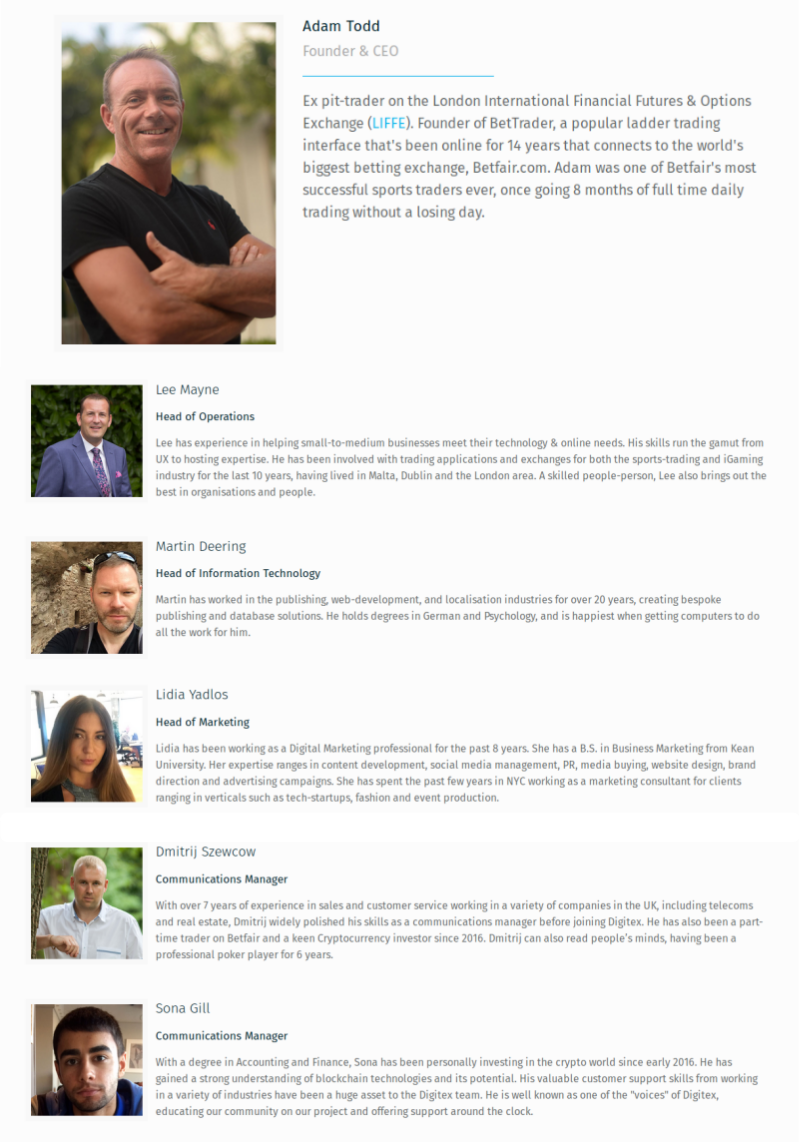 Watch the Digitex exchange on action with their CEO Adam Todd
https://youtu.be/qxqyspMiPGg
Are you excited with the project and want even more information? Visit their social media channels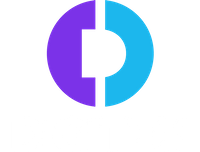 Digitex Website
---
---

Hope you have enjoyed the reading. Keep in touch for more information about great crypto projects.
Ethereum address: 0x0ebcB37223F07B1Bd0765E70f940046D504743a5 Steemit account: https://steemit.com/@joelsegovia

submitted by
joelsegovia
to
u/joelsegovia
[link]
[comments]
Topex ICO (TPX Token): Cryptocurrency Exchange Trading Platform
What Is Topex?
Topex
is a brand new
cryptocurrency exchange
that also happens to feature a hundred percent useful utility token. The exchange is planning on conducting its first-ever crowd sale on the 19th of September 2018.
Topex Benefits
Investors who choose to invest in this token can expect the following:
Profit Distribution
All Topex (TPX) token holders will be
provided with a daily passive income
. The income will come from the profits that will be generated by the exchange.
Compensations
Traders now have a unique opportunity to trade without fearing that they might lose their
crypto investments
. A compensation fund has been put in place, which is to be used in partially covering losses incurred while trading.
Earn TPX
Creating a paid subscription in this platform, and linking it to your portfolio will make it possible for the platform users to take part in trader rating. This is something that has been put in place to help rate the best platform traders.
Topex Cryptocurrency Exchange Trading Platform Features
Topex
is an innovative multifunctional monetary platform
designed for trading purposes
. The platform comprises of the following:
User Interface
Its user interface is widely customizable making it possible for users to move or delete all their items. It makes it convenient for traders to work in the manner that they have already become accustomed to. Users can use the interface to sort through elements and notifications that may be residing in different blocks.
Crypto Portfolio
The platform has a built-in
crypto portfolio platform
that makes it possible for one to track all the changes that have taken place in their profit margins, as well as share information on some of the coins that they may have purchased. All information pertaining to buy and sell transactions that have occurred on a user's portfolio is to be recorded, and also displayed in their crypto portfolio.
Money Save
Topex has come up with an economic model that is meant to reduce the market risks associated with the
trade of fiat money and cryptocurrency
. The exchange will provide partial or full compensation for trade losses that occur in its framework. However, this will only apply for trades that have taken place within a span of twenty-four hours.
Security
The Topex exchange is one of the most secure exchanges available today. It is based on the
distributed method of using neural networks
. It has been designed to use a multidimensional distributed tech that stores passwords and keys used in accessing the exchange accounts.
Topex TPX Token ICO Details
Parameters Of The ICO
TPX Token Sold: 316050 TPX
1 ETH: 5000 TPX + 40% Bonus
Current Bonus:40%
Current Token Sale Period: 2018/08/01 – 2018/09/19
Next Bonus: 30%
Next Token Sale Period: 2018/09/19 – 2018/09/26
https://topex.io/
​
https://twitter.com/topex_io
​
​
submitted by
arvind1111
to
ico
[link]
[comments]
[uncensored-r/CryptoCurrency] U.S Taxes with thousands of transactions across multiple exchanges, including non-US
The following post by yudhidel is being replicated because some comments within the post(
but not the post itself
) have been
openly
removed.
The original post can be found(in censored form) at this link:
np.reddit.com/ CryptoCurrency/comments/7ql3d7
The original post's content was as follows:
I started buying at Coinbase and then Kraken. I have shorted, margin traded, transferred, bought and sold multiple coin-pairs between these two exchanges, hundreds of transactions while I was in the learning phase of crypto trading. In the last few months of 2017, I have also moved funds to GDAX (also coinbase), BitFlyer, Bittrex, Binance, and BitGril, and done many more buy/sell on many different coin pairs.
I have the record of how much money I invested into crypto, and I can calculate the total gains at the end of the year. I have cashed out most of my initial investment, but not any of my gains yet. And I was under the impression that we were supposed to pay taxes on the final gains when we cash it out- whatever amount(s) it may be.
Reading across the comments here and elsewhere, it appears that we are supposed to calculate profit/loss on every single trade and pay taxes accordingly. Does that mean, for example, if I made 20K in profits in 2017, but somehow lost 25K in beginning of 2018 resulting in a next YTD loss of 5K, I would still owe taxes on 20K gain for 2017? That would be insane!!
Now, how in the world am I supposed to calculate my cost basis with so many transactions across multiple exchanges, (some being foreign).
Are any of you in a similar situation?I want to be right with the taxes, but the tax system is so complicated and confusing (even for non-crypto taxes). They really need to simplify this thing!

submitted by
censorship_notifier
to
noncensored_bitcoin
[link]
[comments]
Contents1 The key skill of margin trading gdax is the ability to hear others.2 The gift of persuasion.3 Strategy and margin trading gdax. It is safe to say that the margin trading gdax is an art. Someone needs years of study and... GDAX is a part of the popular Californian Bitcoin (make money on Bitcoin's) purchase service Coinbase, which has been active in the Bitcoin trade since 2012.In 2016, it was decided to create GDAX – a site, which would offer its users greater opportunities for work (the developers added support for Ethereum and a service for professional traders, etc.). In comparison to GDAX, Kraken is an example of a popular cryptocurrency exchange that doesn't have as many obstacles for smaller investors to get started with margin trading. On Kraken, Tier 1-4 investors can all participate in margin trading. Coinbase cryptocurrency trading market GDAX has now implemented previously announced plans for a new fee schedule, which that went into effect today April 5th at 00:00 UTC (April 4th at 5:00 PST).. There will continue to be 0% fees for all maker orders but now a tiered fee structure between 0.10% and 0.30% for all taker orders. To be able to take short positions, we need to understand margin trading. Trading on margin means we are trading with borrowed money. On exchanges like Poloniex, we can trade Bitcoin with a handful of coins (there are fewer coins offered for margin trading) with 2.5x leverage. That is, if we own 1 BTC, we can borrow up to 2.5 BTC to trade with.
[index] [1191] [2780] [1433] [693] [2638] [233] [2289] [2631] [275] [1449]
24 hour volume explained Coinbase Pro - GDAX
📌TIMESTAMPS! 1:33 Margin Level Recap 4:00 Short Sell Trade 9:04 Close/Settle Short Position 15:45 Execute your margin trade the "automatic" way 17:35 Positio... Published on Feb 9, 2018 Let's examine the 24 hour volume listed on GDAX. By the end of this video, we will see that there is something mysterious about the displayed value. I walk through the steps on how to buy Bitcoin on GDAX without having to pay for the high margin trading fees. I'll be using the BTC I get for some upcoming investments. New To Crypto? Buy $100 of ... A quick video of how to set a stop order, also known as a stop-limit order on Poloniex. Comment below if you have any questions. I will do my best to get bac... revisiting with a short video tutorial on gdax, and some updated tips and tricks to help your day trading. Social Media: Follow me on Dlive: https://dlive.tv/MrSotko Follow me on Twitch: http ...